Open Twist Pole & Corded Track
Shown in cream & Dutch Metal Leaf distressed
Shown fitted with track, Honeysuckle A finial, and brass end brackets.
Open twist poles are available in 50mm, 63mm and 76mm diameter poles only.
Shown below Cherry Open Twist Pole with black in the twists.
Fitted with inset corded track and a hand carved cherry Goblet Finial with black highlights.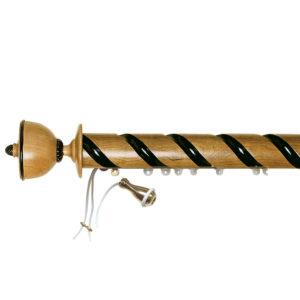 This pole can also be used with rings.
Themes:
Curtain Poles